4 Ways Incubators can Inject Fuel in your Start-Up in UAE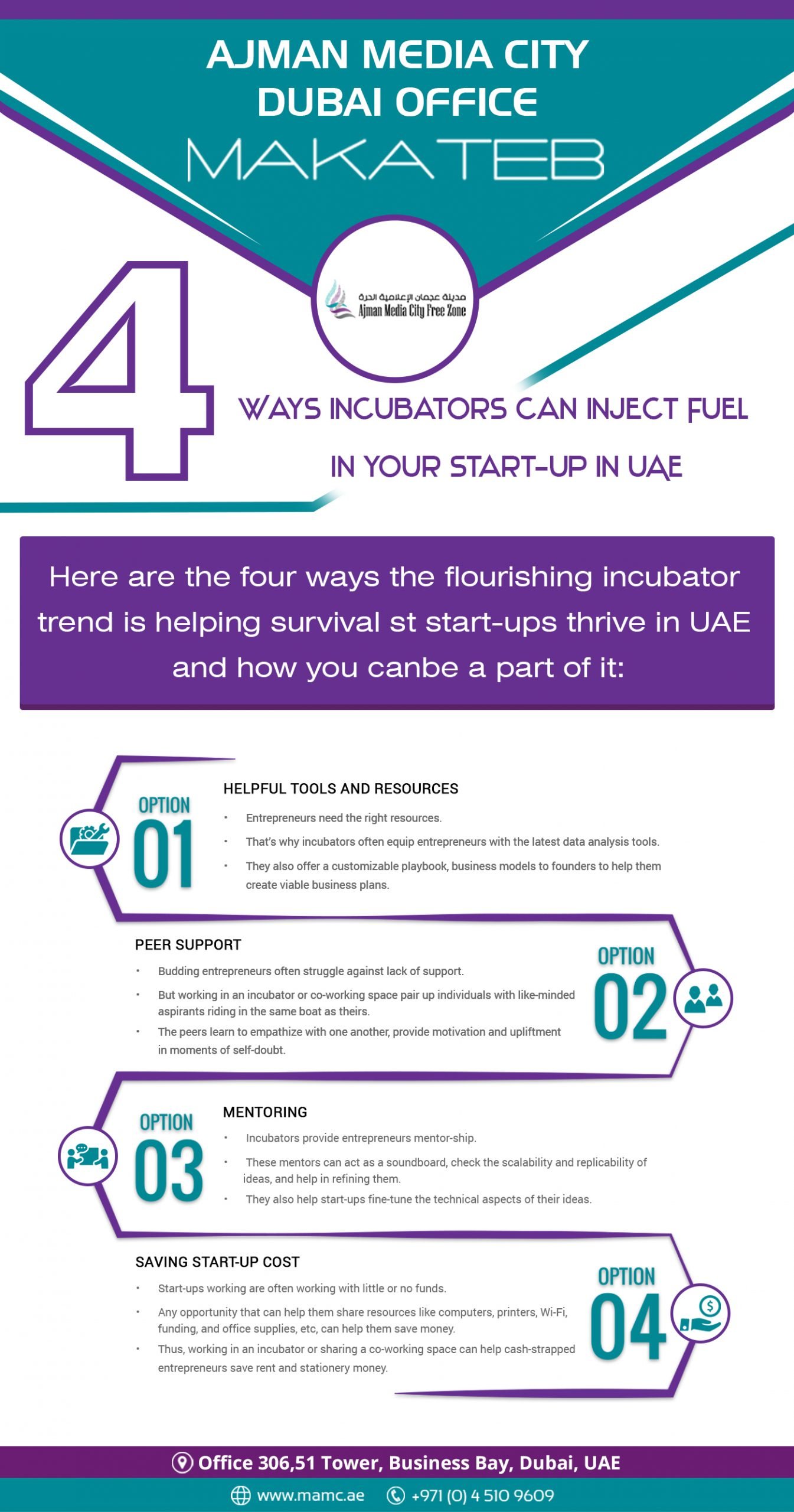 Business in Uae Aspiring start-ups wanting to start a venture in UAE feel hesitant often because they assume that they have to fly solo and it would be tough.
They also fear that they won't have access to the resources that big brands and businesses have at their disposal.
Luckily, the emergence of incubators and accelerators in UAE and free zones like Ajman Media City Free Zone is helping many start-ups and entrepreneurial ventures in realizing their dreams and strengthening UAE's economy.
Here are the four ways the flourishing incubator trend is helping survivalist start-ups thrive in UAE and how you can be a part of it:
Helpful Tools and Resources
Entrepreneurs need the right resources and tools to bring their projects to fruition, such as data insight and a business plan.
That's why incubators often equip entrepreneurs with the latest data analysis tools to help them gain invaluable insights about the target market and consumer behavior in UAE.
They also offer a customizable playbook, business models to founders to help them create viable business in UAE plans.
Peer Support
Budding entrepreneurs often struggle against lack of support and isolation in the initial phase of their start-ups.
But working in an incubator or co-working space pair up individuals with like-minded aspirants riding in the same boat as theirs.
Instead of unnecessary competition and friction, the peers learn to empathize with one another, provide motivation and upliftment in moments of self-doubt.
Mentoring
Incubators provide entrepreneurs mentor-ship.
These mentors can act as a soundboard, check the scalability and replicability of ideas, and help in refining them.
They also help start-ups fine-tune the technical aspects of their ideas and also find seed money and funding and grants and prepare proposals to pursue them.
Saving Start-up Cost
Start-ups working are often working with little or no funds and any opportunity that can help them share resources
like computers, printers, Wi-Fi, funding, and office supplies, etc., can help them save money.
Thus, working in an incubator or sharing a co-working space can help cash-strapped entrepreneurs save rent and stationery money.
Do you know that the Incubator Scene in Ajman Media City Free Zone is Promising and You can be a part of it?
Ajman Media City Free Zone is not far behind in the incubator scene.
In line with its Ajman 2021 Vision, Ajman Free Zone is promoting itself as a startup-friendly place.
The authorities are specially focusing on creating a nurturing environment for digital media and technology start-ups so that they can contribute to the goal of economic growth and development.
They are taking steps to bring innovation in the fields digital media and technology.
In this respect, AMCFZ has partnered with Cloud Concept and set up a technology Incubator titled "AjTech".
This incubator's aim is to support and empower entrepreneurs in the initial phases of the development of their product or service.
In this respect, the AjTech incubator is encouraging technology firms to create tools and services specifically for startups in order to help them reach their goals more conveniently.
Furthermore,
'Media Lab', launched by H.E Sheikh Abdul Aziz bin Humaid Al Nuaimi, Chairman of Ajman Media City Free Zone,
needs to be mentioned in this regard as it is a "global mentoring hub" which aims towards transforming UAE's economy into a knowledge-driven one.
Therefore,
Business In UAE
rest assured that if you want to open a media and technology and creative start-up in Ajman Media City Free Zone,
you won't be short of moral and material support.
Let Makateb help you with the company setting up, PRO and visa aspects of your start-up in Ajman.