How to start an advertising agency in Dubai – the UAE
Advertising Agency In Dubai ,Foreign investors who are interested in having their businesses set up in Ajman, Dubai or anywhere else in the UAE have plenty of options to choose from. One of those options is to open an advertising agency, which can be financially rewarding.
It's an amazing opportunity for individuals who have had years of experience in this field as this gives them an edge over entrepreneurs who are just starting in the industry.
To put up an advertising agency, you must comply with the Advertising Standards of Official Gazette UAE, issued by KHDA (Knowledge and Human Development Authority).
The advertising industry continues to grow in Dubai as businesses from other industries continue to flourish. Companies need to grow awareness in terms of their products and services; hence, the need for marketing efforts.
Setting up an advertising business in Ajman, Dubai, or anywhere else in UAE has almost the same set of requirements with a few minor variations. Let us get to it.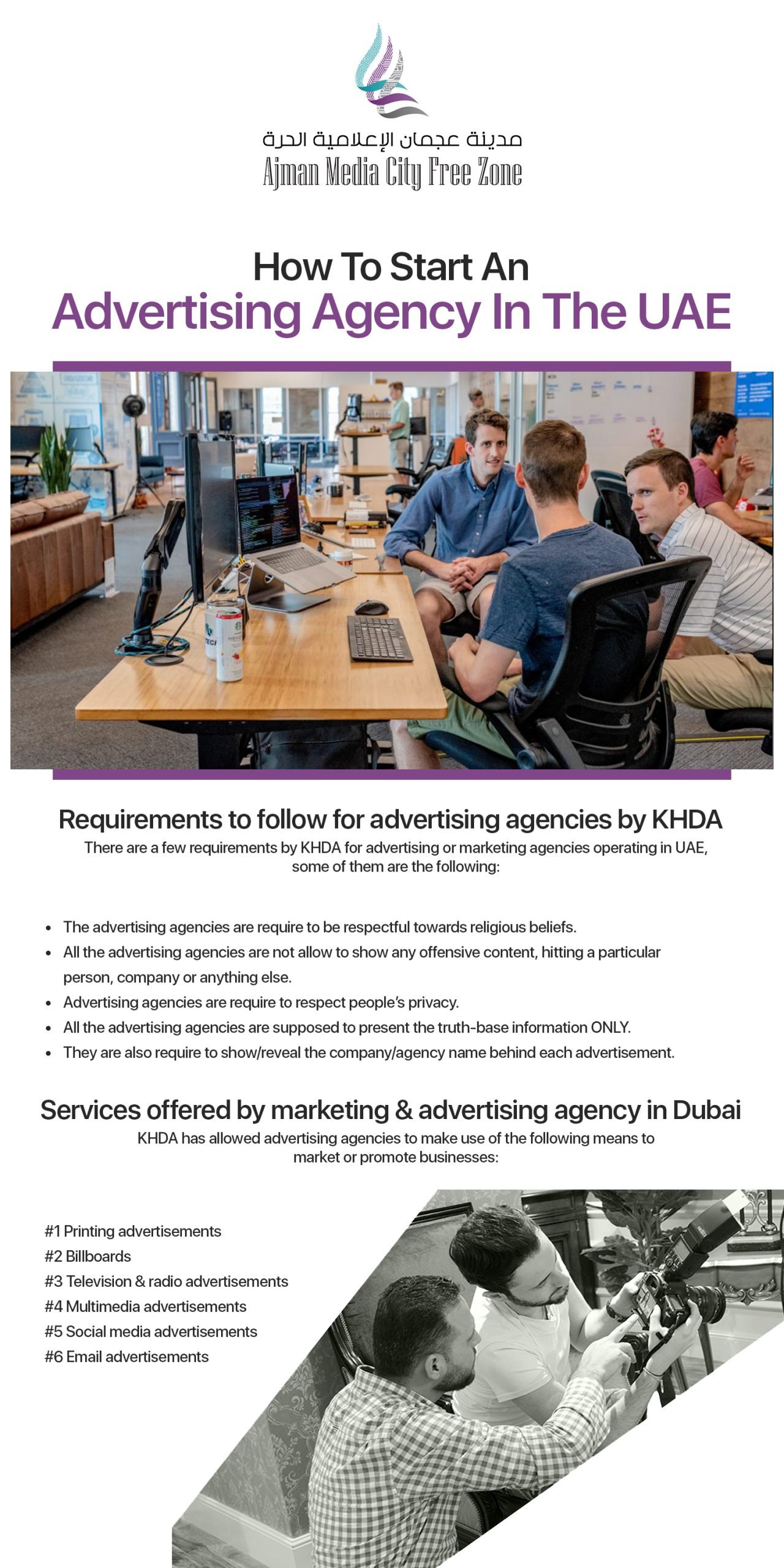 Requirements to follow for advertising agencies by KHDA
There are a few requirements by KHDA for advertising or marketing agencies operating in UAE, some of them are the following:
The advertising agencies are require to be respectful towards religious beliefs.
All the advertising agencies are not allow to show any offensive content, hitting a particular person, company or anything else.
Advertising agencies are require to respect people's privacy.
All the advertising agencies are suppose to present the truth-base information ONLY.
They are also require to show/reveal the company/agency name behind each advertisement.
Services offered by marketing & advertising agency in Dubai
The marketing sector in UAE has evolve and more than a few companies are operating in this sector, so the competition has gotten pretty stiff. At the same time, the demand for advertising companies is high as UAE has grown into a business hub these past few years.
Not to mention, companies need to implement effective, scalable advertising and marketing efforts to grow their business. This is the perfect opportunity to provide your services and help build brands for a fee, of course.
KHDA has allowe advertising agencies to make use of the following means to market or promote businesses:
#1 Printing advertisements –
#2 Billboards –
#3 Television & radio advertisements –
#4 Multimedia advertisements –
#5 Social media advertisements –
#6 Email advertisements –
Wrapping up…
If you want to open a marketing or advertising company in Ajman Free Zone, or anywhere else in UAE, you definitely need proper assistance. The free zone business formation companies are operating in the UAE, which is the best option, to begin with. When having a lack of knowledge, low resources, & no experience to move concepts in their minds onward to kick-start their business, free zone companies are the best choice.