The Benefits Of Ajman Media City Free Zone Are Endless?
After the global economic setback in 2020 due to the Covid-19 pandemic, people are exploring and settling into places with less competition and saturation yet more lucrative opportunities. Since the pandemic, Ajman Media City Free Zone has become an option for starting a business in the UAE.
With its ever-increasing popularity, Ajman Media City allows you to leverage seven packages ranging from 0 to more than five resident visa allocations. Moreover, the Ajman Media City Free Zone Makateb has a lot of things to offer to business owners. But it will work for people who do not mind sharing a desk or having a small office.
With a unique QR code for obtaining the license to trade legally in Ajman, you can leverage the free zone to its maximum potential. It also allows you to work remotely in Ajman using a freelance visa in Ajman.  Any device can be used to scan the license to check if it is real. It can help online businesses build trust with people who might buy from them.
The free zone's registered agents and business consultants can quickly register a business in Ajman Media City. They help people start businesses and will take care of all the paperwork for you. If you think this is all you get from Ajman, then you are wrong. The good news is that Ajman Free Zone has to offer more than you can expect.
Advantages of a Business Set-Up in Ajman Media City Free Zone
Digital Process
The A-Z business registration process in the Ajman Media Zone can be done online. Therefore, it saves you time and travel costs.
Visas
Applying for an establishment card is all it takes to get a visa. If you pay the "urgent visa" fees, the people in charge of the Ajman media city free zone can give you the visa right away, including a freelance visa in Ajman.
Repatriation
However, there are no limits on moving capital and profits back home, so you can move all your money.
Taxation
Companies in Ajman Media City Free Zone don't have to pay corporate taxes. Neither its founders nor its employees have to pay personal income tax.
Business Ownership
When you set up a business in Ajman Media City Free Zone, you do not need a local sponsor when you form a company on the mainland. Even in a foreign land, you own your business. 
License
With just one license in Ajman, you can extend your business and work with different sectors. After applying for the license, you get it in 24 hours. Costs vary for licenses in the Ajman Media City Free Zone. The licenses do not qualify for a visa, but they come with a place to work in a business club. This means that the zero visas set up in this free zone are now the cheapest in the UAE.
The license enables you to do business and service work in Ajman Media City Free Zone.
Location
The location of an economic platform is a big part of how well it will do in business, and Ajman Media City Free Zone doesn't leave much to the imagination when it comes to giving investors a great place for their business to grow.
The Ajman Media City Free Zone is in the heart of Ajman City, which is a great place to be because it gives investors easy access to both local and international markets that bring in good business.
This is one of the main reasons people want to invest in Ajman because it is near to international airports and big cities like Dubai and Sharjah. That makes it a great place to start, grow, and promote a business quickly on a large scale.
Easy Business Set-Up
Setting up a new business in the Ajman Media City Free Zone is not too expensive.  This is because there are multiple licensing options and business setup packages that offer a variety of benefits.
The licensing options in the Ajman Free Zone let investors choose from a wide range of business activities that fit their main business goals and the needs of their industry.
The Ajman Media City Free Zone cost of a license depends on which package is chosen. Investors can choose a package based on the industry they want to work in, the business activities they want to do, and the number of workers they need.
Starting a new business in this city saves you money because multiple business setup packages are available.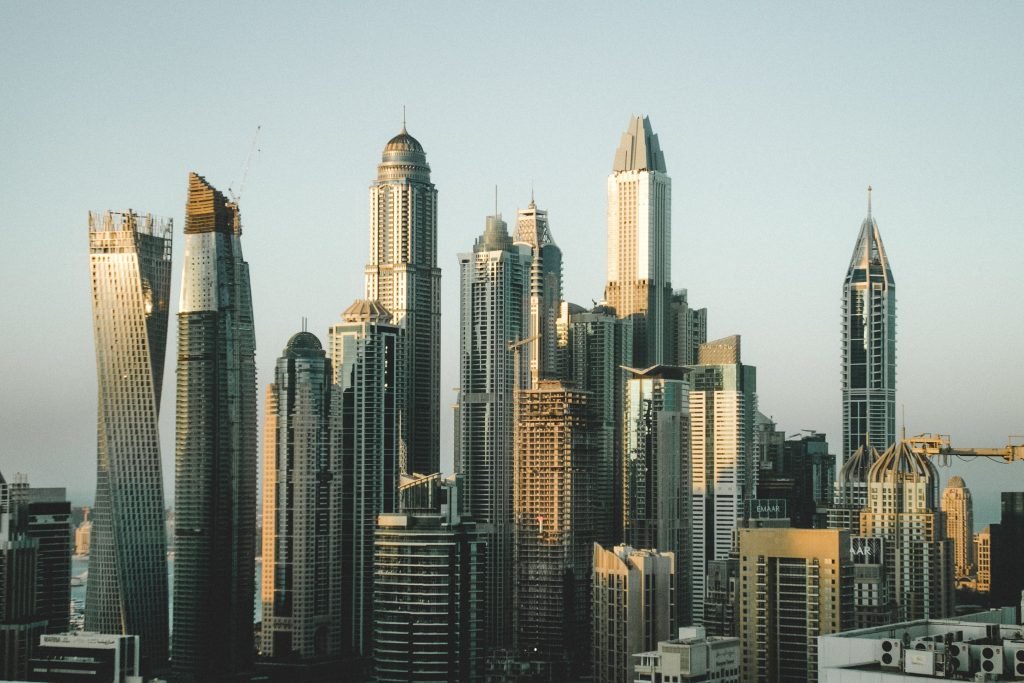 The free zone has brand-new buildings, which is a great selling point and makes it easier to work. In addition, there are several company headquarters and business centers where work can be done.
The facilities include:
10 hours of desk space per month
Permanent desk space (permanent)
Shared workplaces (permanent)
Executive offices of high quality
Company Setup in Ajman Media City
You can set up a business in Ajman Media City Free Zone without going to the free zone.
For registration, you must have the following documents and information ready:
Copy of the passport
Copy of the UAE entry stamp
Copy of the resident visa
Photo the passport size (if you apply for an eligible visa company).
Residential address
Email address
Phone number
Forming a company usually takes three business days. After everything is done, you will get the following documents:
Certificate of Establishment
Certificate of Good Standing
Trade license
Certificate of Shares
Tenancy Agreement with Occupancy Certificate
Visa for Residency
Compared to other free zones, the Ajman Media City Free Zone fee for a resident visa is less.
A very important thing to know is that medical exams are not allowed in Dubai. But you would need to get checked out by a doctor at Ajman Hospital.
Partner visas will be valid for three years, and work visas for two years. Also, getting a visa does not mean you have to buy health insurance.
Some foreigners considered "high risk" may have trouble getting residency visas in the Ajman Media City Free Zone. They include Iraq, Syria, Egypt, Palestine, Lebanon, Bangladesh, etc.
Before starting a business, people from these countries need to get immigration approval. But, even if your country is on the list of "risky" ones, you can still apply. Anyone can fill out an application.
Amenities in Ajman Free Zone
The Ajman Media City Free Zone has brand-new buildings. It is where the company's main office and business center are.
The amenities include:
10 hours per month of desk space
Shared permanent desk space
Shared the same permanent job
Permanent position in charge
Trade License Renewal
In Ajman Media City Free Zone, all you have to do to renew your company's license is talk to your registered agent. The fee to renew a license is the same as getting a license. So it's not necessary to go to the UAE.
You only need:
Renewal Fees
Letter of permission
License Liquidation
A company's liquidation is a multi-step process that includes the following:
Visa cancellation
Getting rid of a business card
The end of a lease
License liquidation
All taxes are included in the government fee of AED 1,700 for liquidation.
Set Foot in Ajam- Talk to an Expert
It is growing quickly and has the lowest registration costs while also providing quick and easy services. It will be great for new businesses, businesses that need to move quickly, and online businesses.
It is suggested for people who need a well-known free zone or wants to do different kinds of business.
Frequently Asked Questions (FAQs)
1. What will be the company's address I set up in the Ajman Media City Free Zone?
The registered company will have a specific office and building number in Ajman Media City Free Zone.
2. Can we change the business activities later?
Yes, you can use the online portal to change the activities later.
3. Do you need a local sponsor to set up a business in the Ajman Media City Free Zone?
You do not need a local sponsor to start a business in Ajman Media City Free Zone. You will be the only owner of your whole business.